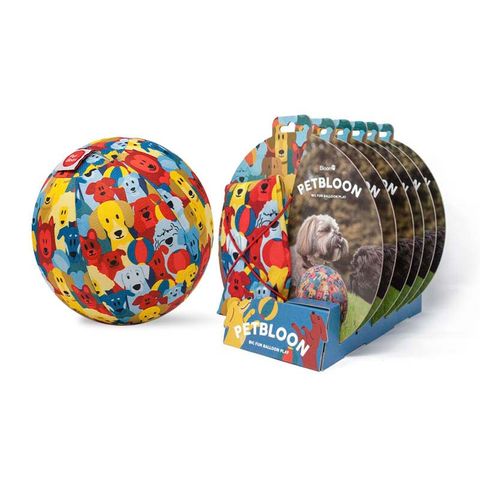 PetBloon Dog Ball For Dogs
Stock Level
In Stock
In Stock
Description
PetBloon Interactive Balloon Dog Toy
PetBloon is a rare breed of dog toy, no ruff edges- designed and refined to be the leader of the pack. PetBloon offers big fun interactive balloon play for your dog. The clever balloon cover transforms standard balloons into a safer, more durable toy your pup will love. Designed for smaller breeds and gentle giants- it's still a balloon after all!
Water Resistant Cover- Helps prevent pops and keeps dogs well away from the latex balloons
Light & Floaty, Yet Durable- Made from 100% polyester, the PetBloon cover offers a level of durability that no other material could. Perfect for those little rascals that love to go Bal-loony at playtime
Made To Be Practical-PetBloon is your anywhere/anytime dog toy. They go barking mad for it. PetBloon folds to pocket size, simply insert a balloon, blow it up then twist to seal (no pesky knots to tie) before tucking the balloon inside the hook and loop closure. When playtime's over, simply untwist the balloon and it all packs away. Simple!
Indoor or Outdoor Play-Use PetBloon indoors or outdoors. It's ideal for interactive play, and because it's a lightweight balloon there's limited risk of damage or injury to pets, kids furniture & ornaments
Large Woven Label- Allows smaller dogs to carry the inflated toy around
Use Any Standard Balloon-Balloon gone pop? Use any standard latex balloon to replace it – much cheaper than a whole new toy!
Package contents:
1 x PetBloon Cover, 3 x Latex Balloons
Materials:
100% Polyester Cover, Natural Rubber latex Balloons
Dimensions:
Approx 250mm diameter when inflated
Details
Carton Quantity:

6

Product Dimensions:

22 x 210 x 235

Product Weight:

0.1