Home

/

Urine Off Zorb-It-Up For Dog/Cats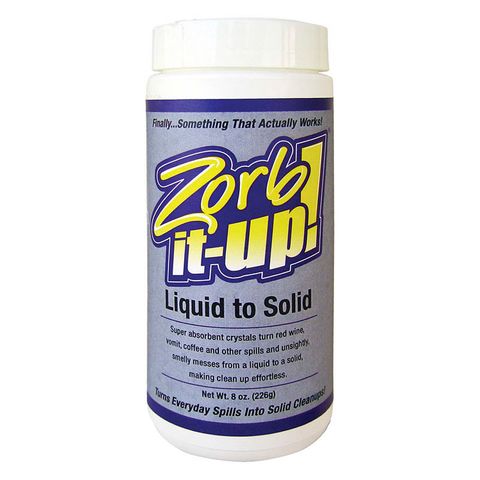 Urine Off Zorb-It-Up For Dog/Cats
Stock Level
In Stock
In Stock
Description
Urine Off Zorb It Up Super Absorbent Powder
We all have the same 'pet hate' when it comes to owning a pet. Zorb-It-Up! Super Absorbent Powder transforms water-based spills and "accidents" into a gel for easy clean-ups! It solidifies spills in seconds, minimizing the mess, odour & damage to surfaces- no paper towel required! Zorb It-Up! contains an odour counteractant and can be used on liquids, vomit, and diarrhea. Safe for use on hard and soft surfaces.
Quick & Easy- An easy, fuss-free solution to cleaning up liquid spills. Just sprinkle it on, and watch it turn to gel. No need for paper towels!
Super Absorbent- From red wine and coffee to vomit and other unpleasant spills, Zorb It Up Super Absorbent Powder absorbs liquids on all surfaces within as little as 5 minutes!
Eliminates Odours- Contains an odour counteractant and can be used on liquids, vomit, and diarrhea, leaving a fresh scent.
Safe for all Surfaces- Effective and safe for use on carpets, hardwood, tile, marble, laminate, and other surfaces.
Directions:
1. Sprinkle generously over the entire wet area.
2. For full absorption, allow 5 minutes.

3. Once the spill has fully absorbed, scoop up absorbent crystals and dispose of properly in a waste receptacle. Use a broom or brush to remove any residue. Do not use a dry vacuum for removal as moisture may cause damage. Zorb It-Up! is not a stain remover.
4. Use Urine Off products to assist with eliminating stains.
Ingredients: Sodium Polyacrylate Starch, Fragrance.
Details
Carton Quantity:

6

Product Dimensions:

70 x 70 x 165

Product Weight:

0.29